And for sure it was. Kyle made the prudent call, as we would have had to make modifications to fit it in our car. The time we started hoisting the old one till the new one was set was a duration of 1hr and 51 minutes. The engine was fired for the first time about 5:30AM (good thing Drake Racing is based pretty close to the country) and the hood was going on about 20 minutes later. None of us had slept yet, and loading the car/trailer was one of the more challenging tasks for the night. Thankfully the sun started to come up soon after we started that task.
It was admittedly melancholy to push the trusty 12x off in the yard, but obviously there was no room for two cars on this trip. We finished loading and agreed that sleep would not be a good thing. We stopped for fuel (thanks to whomever reminded us they would not have it at the racetrack) and fuel for us. Omelette, pancakes, and of course coffee all went down easy.
Surprisingly there was not much dozing on the way to the track. We arrived about 30 minutes before practice started. It was nice to see so many people come up to see us, smiling, and saying that they were happy we were able to get it replaced. They crowded around to watch us roll out…a number 81.
The day was such a rush that it helped us not focus on how tired we were. Lulls in the action were not helpful. Setting the toe on the car was enough to induce a power-nap. But after getting acclimated (Kyle is a lot thinner, a lot taller, and oh his car has a hand clutch) we ran session after session. Many of these were to try suggestions that our shock gurus from RAM Engineering (who were there for the big show) laid forth. I did not count, but I would be surprised if we did not run the most laps out of anyone. We were making incremental gains, but not consequential enough. In our next to last session we got to sniffing distance of where we thought the cut line would be for locking in.
Just before time trials we got the official word that we would have to change the number to 12x or we would not be scored for our standard points. We rummaged up duct tape and old numbers to make the car "sort of" look like ours.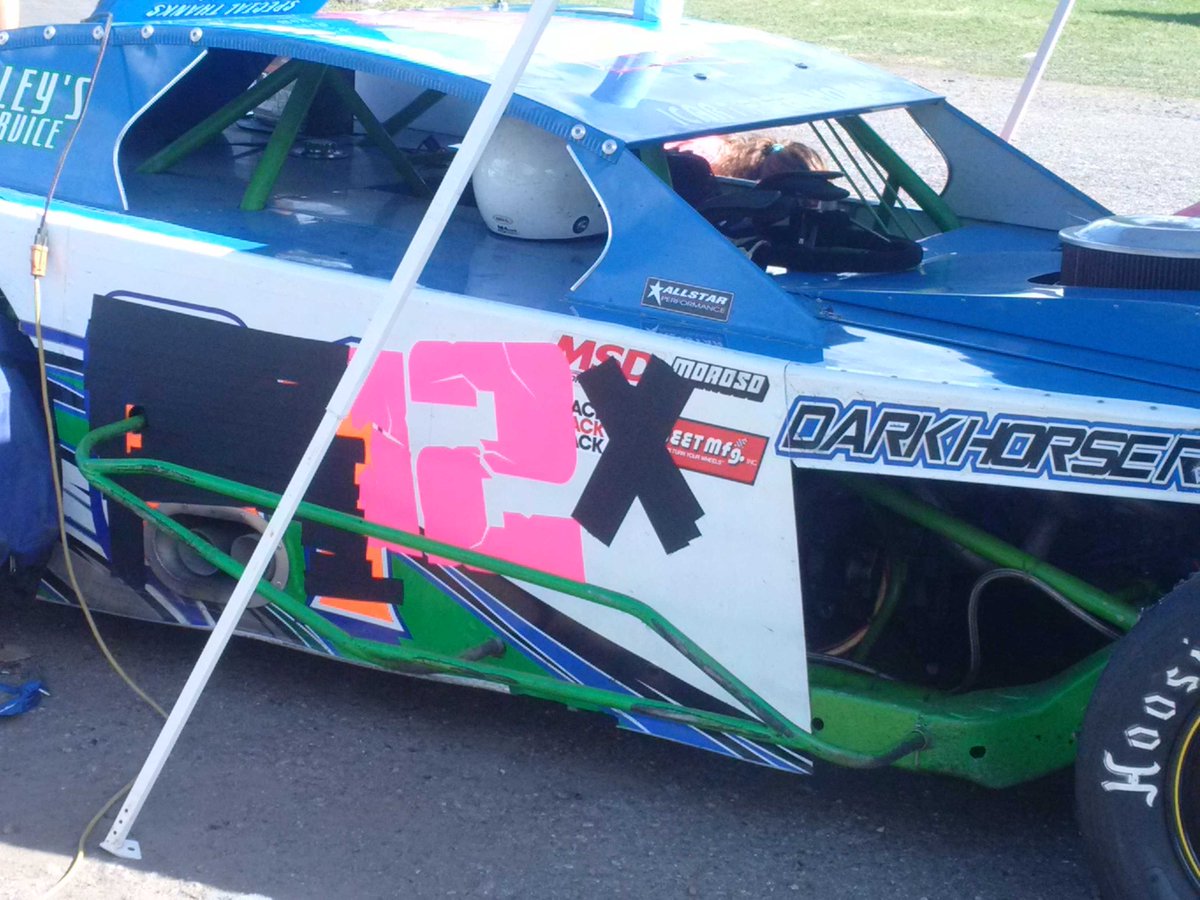 I don't see no stinkin' 81!
We went a couple tenths faster in time trials, which was a pleasant surprise for once. Unfortunately, so did most! 26 cars timed within 0.18 of one another. Regretfully…we were 25th of those 26th, which found us in 34th. That led to an uneventful LCQ race – started 5th and finished 5th. We then went out on the track for the autograph session. The Whittemore fans are always so great and happy to see the full field of fire breathers.
The B-main was much better. We started 11th, but continuously worked our way forward. We briefly got as high as 3rd on a restart, but ended up 5th. The car was really coming in, and I think could have been solid in the A-main.
Disappointingly we watched the A-main from the grandstand for the second night in a row. But, we had done enough – with all of the efforts through the night (and the season) – to secure the points title. We loaded up and took off. After being awake for 42 hours straight, I finally had to rest about an hour into the trip. The front seat of the Malibu was mighty comfortable, even from the parking lot of the Hampton Inn it was facing. Made it home safely with a huge smile on my face.
The next edition will talk about future plans as the team rebuilds to get stronger.
Still catching up on sleep,
-Michael